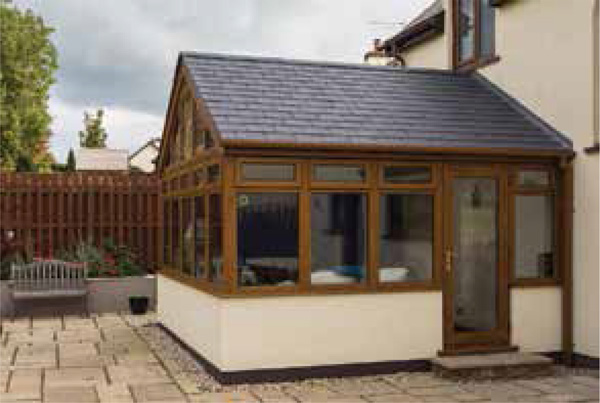 An
Icotherm Gable End solid roof conservatory
is a beautiful light filled room where it's a pleasure to spend time. A calming space that enhances your lifestyle and gives you that valuable extra living space, adding value to your home. But have you considered how you will keep your conservatory cool in the summer and warm in the winter? By choosing an conservatory fitted with an Icotherm Gable End solid roof you will have an conservatory that is a room to be enjoyed all year round. What's more, because it has all the looks of a traditional extension, it will be a seamless addition to the home.
The
Icotherm Gable End solid roof
has been designed and engineered to offer you so much more. It is a truly lightweight tiled conservatory roof with an overall U-Value of just 0.16. This makes the
Icotherm Gable End solid roof
one of the most lightweight and energy efficient roofs on the market today and offers the perfect balance between energy efficiency and comfortable living. The roof is engineered to make your room up to 90% warmer in winter and 70% cooler in summer whilst enjoying the benefits of reduced noise pollution, no solar glare and extra privacy.
For a beautiful and timeless appeal the
Icotherm Gable End solid roof
combines traditional features with state-of-the art engineering. With all the manufacturing integrity of the
Icotherm Gable End solid roof
, the Icotherm Gable End solid roof offers a quick and easy solution for more space whilst giving a touch of sophisticated elegance. With a choice of colour and size options available you can be sure the Icotherm Gable End solid roof will be the perfect finishing touch to your conservatory.
Industry Leading U-Value The Icotherm Gable End solid roof has an industry leading U-Value of 0.16. Making the
Icotherm Gable End solid roof
virtually unbeatable in its Market. Unlike competitor systems achieving only a U-Value of 0.18, we do not just add excessive quantities of thick insulation to overcome thermal bridging – conductivity issues when using aluminium, our system is engineered much better. Every layer and product element is implemented to not just suit its primary purpose, but to be more insulated naturally and have no thermal conductivity elements, making the Icotherm Gable End solid roof one of the most superior systems.
Our Conservatories are supplied as a kit and we are pleased to offer a fitting service, you can discuss your needs with a member of our dedicated sales team as costs vary depending on the size and location of the build.


Included in your quotation is a price for a
Durabase
, this is a prefabricated base and once the base pads are in, usually goes up in around 4-6 hrs depending on size and gives an exact foundation to build the conservatory onto.
Durabase
is highly flexible for all types of builds and can be tailored to your exact specifications to create high walls if required. The Durabase system means less mess and waste to deal with and coupled with the speed of installation means that in under 4 days you can have a watertight building.
It's backed up with
JHAI certification
that can make planning or building regulation application a far easier process. In addition it comes with a 25year guarantee.