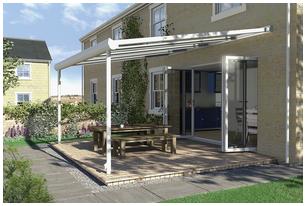 The Pergola is available in 9 sizes and two distinctive colours: White or Textured Grey Contemporary in design and functional in use, helping you to enjoy the outdoors. Ultraframe is Europe's leader in the design and manufacture of glazed roofing systems for the home, with over 1.5 Million installed to date.
Pergola is part of Ultraframes breathtaking new outdoor living range. It can be used to create a stunning, contemporary patio area, allowing you to enjoy the outdoor whilst protecting you from the elements.
This fusion of engineering excellence with contemporary design is reinforced by the aluminium posts being part of the immensely robust structure, whilst also fulfilling the function of a rainwater s downpipe to drain water away from the building.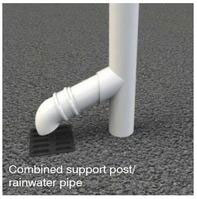 The Ultraframe Pergola is glazed with 6mm or 10mm glass which delivers the outdoor feel of the classic pergola style, whilst protecting from the rain.
Easy to install with no on-site cutting or wastage the PERGOLA is a complete solution. Designed as patio cover the PERGOLA product is pre-fabricated in 9 size options to provide a perfect solution for every customer. The unique curved Pergola beam is constructed from powder coated aluminium and acts as an integral gutter and support beam. Aluminium posts are part of the structural support package - these also fulfil the function of a rain water pipe. The Pergola can also be used as a carport and its innovative curved beam functions as an ingenious guttering system, whilst delivering beautiful aesthetics in a structurally superior design.
Carport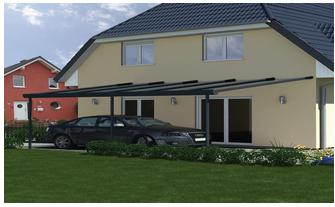 Technical Overview for Glass Verandas and Carports
Pergola supplied unglazed - we will issue glass panel sizes.
6mm toughened glass for 0.6 snow load areas - all other areas use 10mm.
One combi post/rainwater pipe per Pergola - position is always at left hand corner viewed from inside. Posts sit 'inboard' of each end by 200mm.
7.5" pitch
Support posts are 2,900mm long and designed to be set between 2,100mm - 2,400mm from ground level to the underside of the beam - balance of the post length is below ground to allow for the provision of adequate support (min 500mm) - see disclaimer over page.
Two colours / finishes - White (RAL 9003 80% Gloss) and Grey (RAL 7016, textured) imges 6 7 8 9 10 11 Price quote drop down using excel sheet.