Delta Roof Systems' range of products offer customers a truly unique and innovative roofing solution that is supported with a customer focused, architecturally qualified, design team that have over 30 years experience in building and product design.
The combination of cutting edge design, created using the latest technologies and coupled with closely supervised manufacture and pre-assembly of every project provide our customers with both reliability and confidence.
The Delta Promise ensures that time on site is reduced and disruption to the home minimised. To do this, we invest in full professional training of all installers on all aspects of the roof design.
Delta is committed to delivering the highest standard of product, performance, durability and appearance and to ensure this, as standard, independent structural engineers certify every product. Additionally and as a mark of confidence in our superior roof systems, every Delta Roof comes with a 10 Year Guarantee - Delta Roof Systems stand the test of time.
Delta Roof Systems is committed to safe working practices for all employees and to the purchase of renewable materials wherever possible as well as the promotion of equal opportunities throughout its business. Delta - transforming roofs, transforming homes and transforming the ordinary into the extraordinary.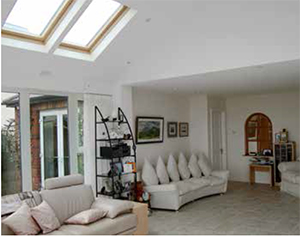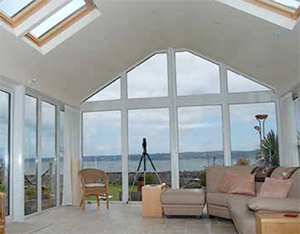 Delta Roof Systems - an ideal choice for New Builds.
Tried and tested, Delta Roofs were initially designed for new build Sunrooms or Home Extensions. The steel portal frame rests on concrete used in the floor construction and avoids the need to erect steelwork from the foundations. This enables walls to be built first and then the complete steel structure and roof to be erected in one operation usually over a two-day period.
Using this method the overall build time is considerably reduced and mistakes on site are avoided as all components are pre-made to order in advance. Attention to detail is at the core of the Delta Roof System which combined with a comprehensive range of options provides the perfect finish to any home.
Delta Roof Systems - a superior choice for
Conservatory Roof Conversions.
The Delta-lite roof is a development of the proven Delta Roof and was designed specifically for conservatory roof replacement, although it is also proving popular in other applications.
In response to the common conservatory issue of being 'Too Cold In Winter' and 'Too Hot In Summer', the Delta- lite product is the perfect solution. With exceptional insulation standards and carefully selected construction and finishes, the overall weight is minimised so as not to overstress existing window frames.
Structurally certified, with many unique features the Delta-Lite roof offers a superior and cost effective solution to transform your existing conservatory.
DELTA
The Delta Roof is designed to carry any slate or tile finish including natural stone tiles. It therefore uses rafters and other structural elements sufficiently strong to carry the necessary weights. The steel portal forms the main structure and rests on concrete in the floor construction. A controlled factory environment delivers a quality product allowing quick and efficient installation on site thereby minimizing any possible inconvenience for the home owner.
Insulation
Delta roof is a 'warm roof' system which uses the latest multi layer foil insulation over the rafters. No ridge or eaves ventilation is required, further enhancing the insulation performance. The timber rafters easily facilitate additional insulation with 80mm of PIR (rigid polyurethane foam) between rafters achieving 0.18 U value required to meet building regulations. This can be increased should even higher insulation quality be required.
External Fascias and Soffits
Detailed with PVC fascias and soffits projecting beyond the walls and windows for superb weather protection and traditional appearance.
Ceilings
Ceilings can be plastered or timber sheeted. They can be either flat or sloped with the detailing above windows giving the appearance of traditional heads facilitating easy fixing of blinds and curtains. Recessed lights are easily accommodated.
Rafters
Timber rafters are used to provide better insulation quality and negate the need for electrical conduits. These also resist thermal movement preventing any risk of cracking in plastered ceilings.
Versatility
Manufactured to virtually any size or shape the roof can link to existing roofs, be hipped back to valley gutters, rest on walls or window frames with detailing as required to meet the customer needs. The product design will overcome varying site issues such as existing building being off square or upper window sills being below the ridge line. Time spent resolving any details on site is therefore eliminated.
Snow and Wind Loads
The roof system is designed, as standard, to carry 600mm of snow (60kgs sq m) and resist storm force winds in addition to the weight of the roof, tiles and live loads. Heavier loads are allowed for if deemed necessary, depending on location. The roof system is structurally approved for use throughout the UK and Ireland.