P-Shaped Potential Conservatories
The P-shape conservatory combines a mix of Edwardian or Victorian styles and is ideal for creating maximum space whilst keeping a sense of proportion in the property. Your P-shaped conservatory can be frame and glass, extending from the ground up or built on a dwarf wall to match the existing brickwork of the property. However you choose to have your P-shape conservatory, you'll find it an excellent way to combine Victorian and traditional styles, create an impression of light and space, and gain a versatile, dual-purpose addition to your home.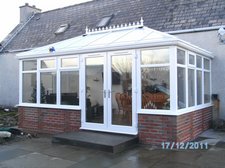 A games room for the children, a sun lounge for the adults, or open up your living space with a multi-purpose room everyone can enjoy throughout the year. For those home owners who favour grandeur of the Victorian but find themselves wanting more space, the P-Shaped conservatory is ideal. The wonderful combination of styles allows you to benefit from the same glamorous aesthetic.
Aluminium is an ideal choice of conservatory material thanks to its strength making it secure and stable standing the test of time and looking great. We offer aluminium in a range of colours and finishes to allow you to create a conservatory that suits your style and your home perfectly.
P-shaped style conservatories can be amalgamated with Edwadrdian or Victorian styles, and these tend to be the most sought after. These are great for people who really need to maximise the space they have, and are opting for a larger conservatory. You keep the style of the Victorian or Edwardian look, without compromising on space. P-shape conservatories combine both the Victorian and Edwardian designs and are therefore perfect for ensuring maximum space while creating a sense of proportion within the property.
Our tiled solid roofs are available to complement and enhance 4 existing styles of conservatory including: Victorian, Lean-to, Edwardian and Gable. This means that even if you find your home limited by space and desire a spacious and practical building extension, even a smaller lean-to conservatory can benefit from all of the solid roof is practical benefits. Likewise, for every other style mentioned.
Versatility: Besides the number of design options that you have, you can also choose to use the conservatory as you see fit. If you have young children, then you might want to convert the conservatory into a playroom for them.
A cost-effective way of extending your home: The P-shaped conservatory can be added to the side or the back of your home. This additional space not only increases the value of your property, but it gives you and your family extra space to use. If you are looking for more room but area in the position to purchase a new property, then a conservatory can be the ideal option for you.
The P-shape conservatory combines a mix of Edwardian or Victorian styles and is ideal for creating maximum space whilst keeping a sense of proportion in the property. Crafted from from high quality, easy to maintain uPVC for enhanced energy efficiency and longevity.
High quality uPVC double or triple glazing supplied as standard
Easy to Installed Any technology.
The most popular, and cost-effective conservatory style
Why Invest in and P-Shaped Conservatory?

Enjoy a large conservatory that provides you with two separate living areas to enjoy or one large entire space– allowing you to really make the most of your conservatory space.

Aluminium provides unbeaten strength and is the strongest frame we make, providing you with peace of mind and security.

A range of colours and finishes to choose from means you can have a conservatory that perfectly fits in with your home and your own personal style.