Basic Benefits Of Victorian Conservatories
Victorian Conservatories: The most popular style in the UK, the Victorian conservatory has a traditional look that suits the majority of properties.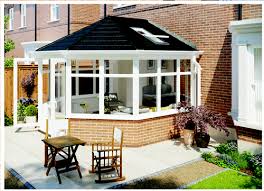 The bay and multifaceted design of a Victorian conservatory will give you panoramic views of your garden or surrounding areas. The styling, which often features ornate and eye catching design, means that Victorian conservatories look beautiful on older properties but also make a stylish addition to newer builds.
A dwarf wall isn't always present some builds may be fully glazed, with glass from top to bottom. Generally Victorian conservatories have a multifaceted design with 3, 5 or even 7 window facets, however a, P-Shaped conservatory is also a popular choice.
Cost of Victorian conservatories:
The bay-curved front gives you panoramic views of your garden and the intricate cresting, finials and decorative glass add a true touch of the Victorian era.
Every Victorian conservatory (testimonials Design) is custom-built here in Britain by our craftspeople to give you a bespoke design that suits you and your home perfectly.
The versatile roofing system means you can choose both the span and pitch so there is virtually no limit to the sizes, shapes and configurations available.
Victorian Conservatory prices will vary in cost depending on the exact style, shape, roof type and measurements.
Victorian conservatories are an excellent choice for a range of properties. With the option of 3 or 5 facets to create their curved appearance, they are a great space saving conservatory option. As a traditional conservatory design, it features period detailing that complements old-style homes beautifully enhancing their charm and character.