Gull Wing Conservatories
The Gull Wing conservatory boasts a large floor area and the elegance of a Victorian roof, making it ideal for a sun lounge or garden room. If you are looking for an elegant and contemporary retreat to add to your home, then the Gull Wing or Gullwing style conservatory may be what you are looking for. More suitable for covering a wider area – perhaps the full width of your property – the distinctive 'wings' of the roof which fan out from the central wall plate give this conservatory model its name.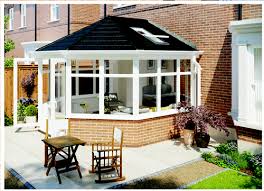 The gull wing conservatory also offers a more intricate shape and style than an Edwardian or lean-to conservatory meaning it is an ever-more popular conservatory option. Gull wing conservatories suit the majority of properties and will optimise space well whilst adding a real touch of character. Like all UPVC conservatories they also offer excellent energy efficiency and are low maintenance giving you more time to sit back and relax.
Spacious inside and distinctive outside, the Gullwing is ideal for self build projects and is a popular DIY conservatory choice.
Our Gullwing conservatories all come with best technology that allows us to not only fully reinforce your conservatory for maximum security and strength but also making ours the quickest and easiest Gullwing conservatory to construct. Best technology is a simple patented system that allows us to factory glaze your window and door frames taking away all the cost and danger of breaking the glass.
How can you benefit from Diy Conservatory Home Improvement?
Style slim sightlines, maximised glass space and clean aesthetics
Energy efficiency multi chamber profiles lock in heat
Durability frames and profiles are robust and last for years
High performance glazing looks good and insulates sound and heat
Security strong frames, quality glazing and efficient locking mechanisms
Convenience full design and build service, tailor-made to your home
The Gullwing conservatory offers a new twist on an old style that will look good on any home.
Unique corner detail : furthest corners from the home angled to mirror the shape of a birds wing.
Create more space by building the Gullwing the full length of your home.
Versatile design that suits most properties.
Half-Gullwing : perfect for homes with high walls. Contains just one shaped corner, instead of the traditional two.